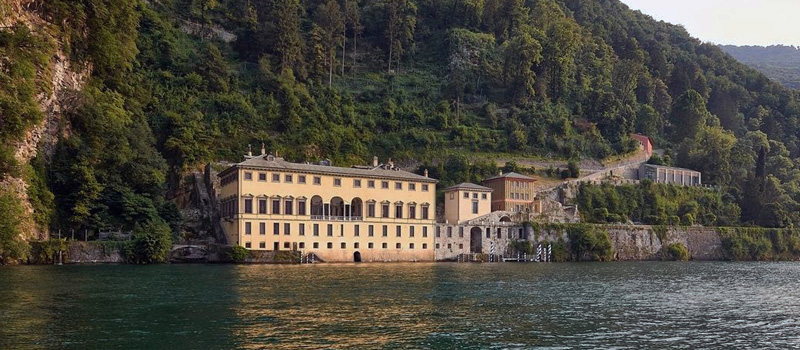 Villa Pliniana in Torno on the lake of Como
Villa Pliniana in Torno is one of the most prestigious residences of Lake Como. Originally created in 1573, it has only recently been renovated by the Ottolenghi family.
In the Middle Ages the inhabitants of Torno installed some mills and plants for the wool processing in the original site. The governor of Como, Count Giovanni Aguissola, decided to build a villa-fortress outside the city. The inner courtyard of the building enclosed a natural source that stood directly on the lake, close to the mountain with a waterfall of about 80 meters. The architect Giovanni Antonio Piotti took care of the construction that ended in 1577. Pirro I Visconti Borromeo bought the house from Piotti's heirs and terraced the surrounding lands to use them for growing vines and chestnut trees. Count Francesco Canarisi di Torno took possession of it in 1676 by frescoing the rooms adding the portraits of his ancestors and the Plinios. Canarisi also built a small chapel dedicated to St. Francis. Villa Pliniana then passed to the Canarisi family, an important family of Como, who retained ownership until the early nineteenth century. After several owners arrived in 1840 to Prince Emilio Barbiano of Velgiojoso d'Este, who restored all the decorations and lived there until 1851, with his lover Anne-Marie Berthier, princess of Wagram and wife of the Duke of Plaisance. 1983 the villa was bought in 1983 by the Ottolenghi family, owners of the Pir. Italo Rumena oil company.
After a slow restoration work, which lasted about thirty years, the complex is now a hotel that organizes ceremonies and cultural events with a new access road. The façade of the villa overlooks the lake with four orders of windows, on the main floor of broken gables and on the top floor framed by Iesene identical to the windows of Palazzo Gallio. At the center of the main floor there is a loggia with three arches supported by twin columns. In the inner courtyard there is a loggia with the statue of Neptune with the trident and the source of the Pliniana spring. A wide helical wood-covered sandstone staircase connects the main floor to the upper floor, covered by a painted vault representing the starry sky. The lower first floor consists of service rooms including the kitchen, the pantry and the rooms intended for servants. At the level of the lake there is a long corridor illuminated by square openings without closing, which leads to various vaulted cellars.